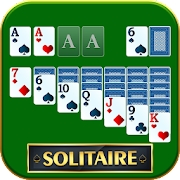 Classic Solitaire
Enjoy Classic Solitaire game now on android smartphones. The solitaire Free is popular and classic card games you know and love.
We carefully designed a fresh classic solitaire modern look, woven into the wonderful solitaire classic feel that everyone loves.
You can move cards with a single tap or drag them to their destination.
SOLITAIRE GAME FEATURES
- Draw 1 card
- Draw 3 cards
- Custom App Backgrounds
- Diffrents of Card Backgrounds
- Single tap to place a card or drag and drop
- Standard Klondike Solitaire scoring
- Smart hints show potentially useful moves
- Custom backdrops & cards from your photos
- Timer, moves, and statistics/p>
- Unlimited Undo
- Auto-Complete option to finish a solved game
- Fun & challenging achievements
- Challenge random games or play winning games (solution ensured)
- Left-handed and right-handed option
- Play OFFLINE in anytime and anywhere
Posted on December 5, 2020